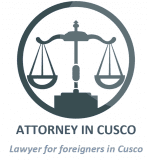 Foreigners Lawyer
Cusco, Perú
Specialists: lmmigration law and Consumer Protection
Wanchaq, Cusco
ACERCA DE FOREIGNERS LAWYER
Foreigners Lawyer is located in Cusco, Perú. It provides practical, common sense advice and assistance to both business and private clients across a broad range of legal problems, including: Contracts or Agreements, Administrative Procedures and Non-Contentious Procedures, Immigration, Brands and Consumer Rights, Enterprises and/or Corporations, Business Legal Advice in General, Civil and Family Law, Extrajudicial Conciliation, Criminal Law, Traffic Law and Among Others.
Ubicación de oficina:
Urb. Mateo Pumacahua C-13 (behind the Franco Dental Clinic), Wanchaq, Cusco, Peru.
ABOGADOS ASOCIADOS

Pamela Porcel
Socia Fundadora
Foreigners Lawyer